About Underage Tobacco Use
Youth Smoking Facts
Smoking threatens the health of thousands of young people in Missouri every year. Almost 22 percent of high school students in the state smoke.
Children and adolescents who smoke are less physically fit and have more respiratory illnesses than their peers who don't smoke. Smoking during childhood can cause impaired lung growth, chronic coughing and wheezing. It also speeds up the decline of lung function during late adolescence and early adulthood.
Youth who smoke often continue smoking into adulthood, which increases their risk for lung cancer, heart disease, stroke and other serious health problems. More than 90 percent of adults who smoke started before they were 18 years old.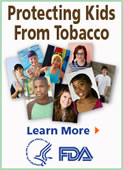 If the current rate of youth smoking continues, approximately 140,000 youth in Missouri will die prematurely. Because it is often difficult to stop smoking, preventing youth from ever starting to smoke is key to reducing tobacco use in Missourians of all ages.
Youth Tobacco Use Prevention
Young people throughout the state are involved in several programs to prevent smoking among youth in Missouri. For more information about the consequences of smoking and tobacco on health, visit the Department of Health and Senior Services website.
Additional Resources